Delta P Technology

The Delta P Technology Was Created for One Reason and
One Reason Only ….. To Save Lives!
For 15 years the World's top industry experts researched cribbing practices for many types of industries and applications, with special emphasis on AST collapsed floating roofs, which included root cause analysis from hundreds of AST accident investigations for more than a decade. The Primary Goal of the Team was to find an affordable solution in preventing floating roof collapses, injuries and fatalities during AST cleaning, inspection and repairs. The research included the actual support weight of the different types of wood, cribbing tower stacking methods, (2 stack and 3 stack), and associated problems with using wood cribbing stacks. The results of the research were alarmingly established.
The affordable solution and development to the prevention of floating roof collapses and fatalities has taken an additional three years of the best Professional Engineering teams, AST experts from the Oil and Gas/Petro Chemical sectors, Safety Professionals, Confined Space Rescue Experts, Fire and Rescue Departments, NFPA, OSHA, MSHA, ASME and Tank Construction Companies to develop the Delta P Technology.
SAFER…STRONGER…FASTER…
COST EFFECTIVE
Which do you feel Safer with?
Old wood cribbing stacks that will get knocked over during roof Rotation and Collapse
and will only hold approximately 14,000 pounds


OR
The New Delta P Cribbing Towers
That will Hold 50,000 Pounds with a 2-1 Safety Factor
Will NOT get knocked over during Roof Rotation and Collapse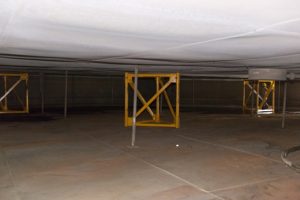 Delta P Adjustable Cribbing Towers
Life is About Choices….So Is Death…!